Case Study: WBHM's Success Using Targeted Social Media Ads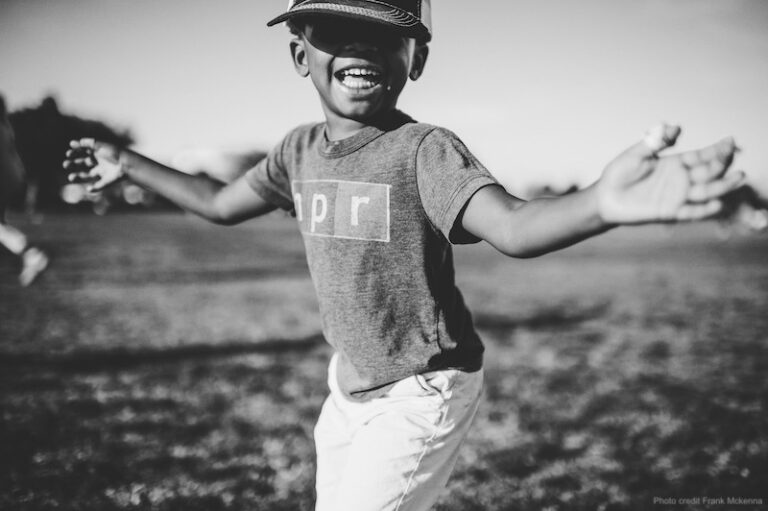 Last fall, WBHM 90.3 in Birmingham, Ala. ran their first paid social media ad campaign and it led to very successful results. Though the station wasn't immediately able to replicate the outcome of the campaign, understanding their approach could be helpful to other organizations engaged in their own paid social media experimentation.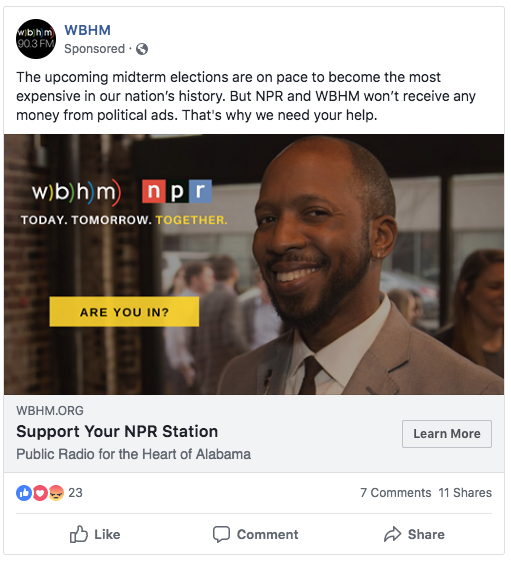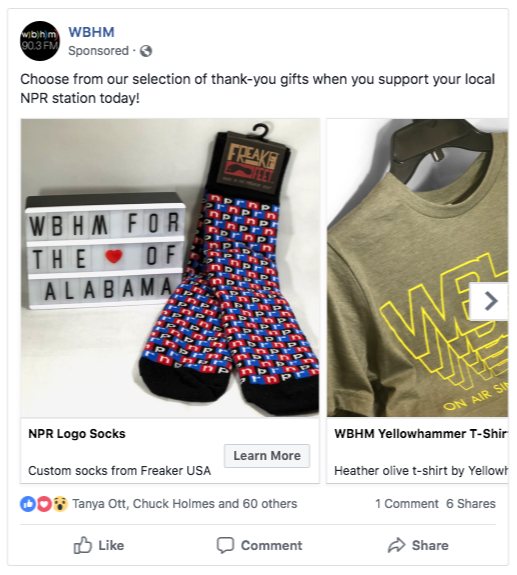 The ads were direct solicitations for donations and offers to buy WBHM socks, t-shirts, and pint glasses in hopes of cultivating these individuals for membership later on. But the success lay in the use of targeting.
Targeting, as you probably know, is the magic (or creepiness) of digital ads that have been selected for people based on their past actions online. WBHM purchased targeted ads through Facebook, uploaded the email addresses of current and lapsed members, and then had Facebook target those users with ads, along with owners of email addresses they had from the NPR One database.
The owners of the ad-targeted email addresses made 279 donations totaling $32,441 during the station's fall, 2017 membership drive. (Donations made up to one day after an ad was viewed by an individual and up to 28 days after an individual clicked through an ad were considered part of the fall, 2017 drive).
It's important to note that ads were not the only messaging donors received during the campaign. Since the campaign occurred during a membership drive, the donors could have received direct mail or email, heard messaging on-air, or all of the above. WBHM knew that the donors had seen or clicked on the ads, but their decision to donate could have been influenced by the ads and/or any of the drive messaging the station was using at the time.
However, the success of the fall, 2017 drive relative to that of the previous drive does reinforce the station's success using targeted ads. Total revenue for the spring, 2017 drive was $319,147.49, compared with $401,871.84 from the fall, 2017 drive.
The same fall, 2017 campaign used Facebook Pixel to retarget individuals who visited the WBHM Facebook page or wbhm.org. Facebook Pixel is a piece of code for your website that tracks what actions your users take so you can assess the effectiveness of your ads. Of the $32,441 the station earned from targeted donors, retargeting WBHM's Facebook page and website users generated $23,497 from 204 donations.
The station works closely with the marketing department at their parent university, the University of Alabama, Birmingham, which put together a visual report of the campaign.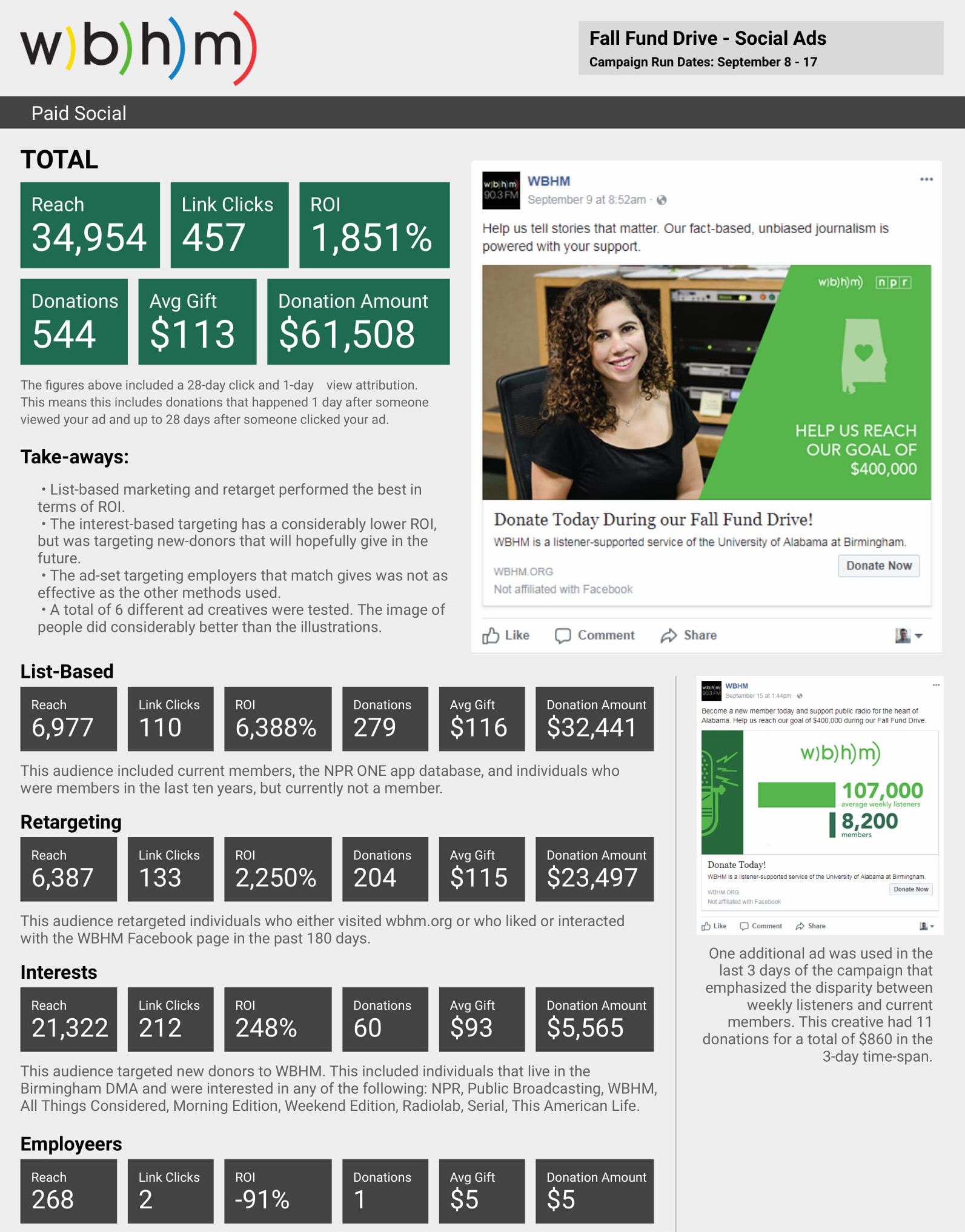 WBHM ran a similar set of ads in the fall of 2018. Although they had a tracking issue that prevented them from connecting donations back to see-through and click-through rates for the ads, the ads saw an even better reach (64,382) than the year before as well as strong click-through rates (1,224 clicks).
This paid social media experiment by a medium-market station stood out to me when I learned about it in early 2018. I attempted to implement a similar campaign at my station, KCUR 89.3 in Kansas City, Mo. We invested $300 in carousel ads featuring public-media-themed goodies like station-branded socks and pint glasses. The ads led to a unique donation form and generated $866 from 5 donations. The results of this experiment weren't nearly as stunning as those from WBHM's experiments, but our campaign helped us benchmark our audience's interest in pubmedia-branded items and further our use of unique donation forms to track the results of paid social campaigns.
BUDGET FOR PAID SOCIAL: $3,153.04, Fall 2017
TYPE OF AD: link click
DURATION OF CAMPAIGN: Fall, 2017 membership drive (9 days), this includes donations made up to one day after an ad was viewed by an individual and up to 28 days after an individual clicked through an ad.
REACH: 34,900 different people or households
Contributors to this blog post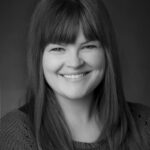 More on the blog