Bust Your Organization's Internal Silos With an Audience-Centric Approach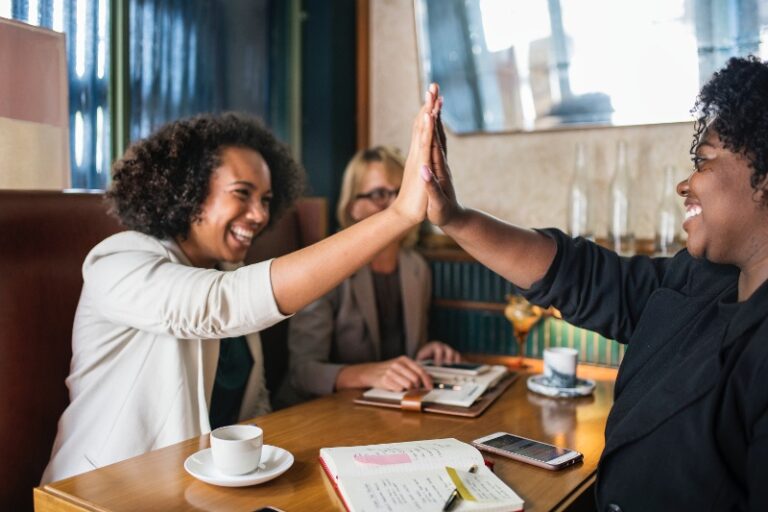 This interactive session was first presented by Atlantic 57 at PMDMC 2018. You can try three session exercises with your own team to explore how to put these principles into practice.
There's a division in many newsrooms today that has an impact on how well we serve our audiences.
Most newsroom reporters and editors focus on creating content, while those in digital roles focus on distributing that content or analyzing audience analytics.
The challenge: Newsrooms are struggling to bridge the divide between old and new.
When these groups work as two teams instead of one, newsrooms struggle to bridge the divide between old ways of presenting content and the new ways in which audiences consume content. It's a gap that has a significant impact on the audience experience: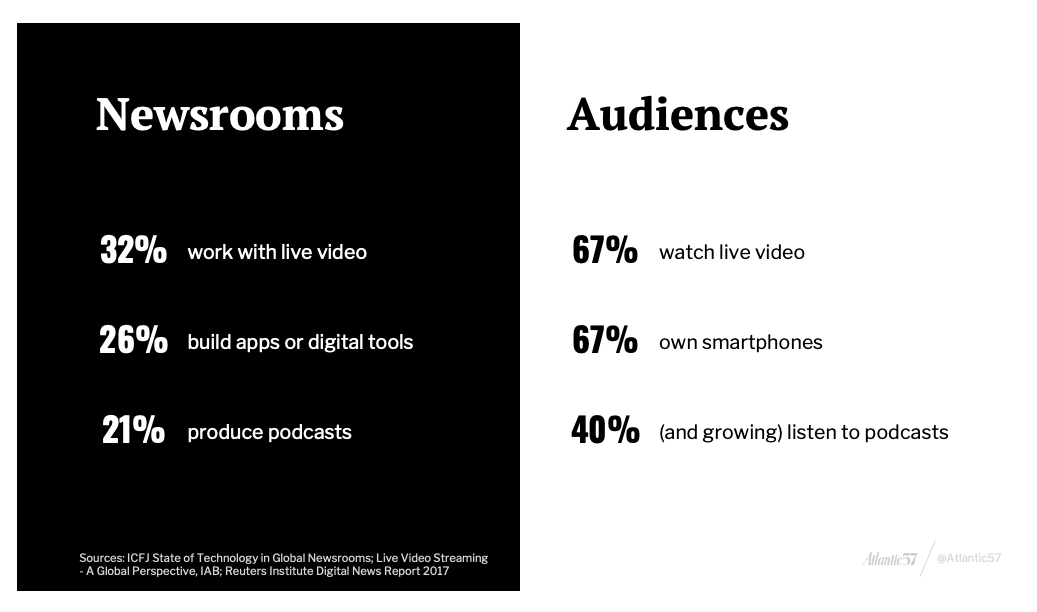 The solution: Unite your teams to serve your audiences.
Put the needs of your audiences at the center of your work. This seems like a no-brainer. And yet, many organizations are falling short of this goal. There are three key barriers that stand in the way. We'll outline what those barriers are, and how to bridge them.
BARRIER 1: Media organizations try to be everything to everyone, everywhere.
Sound familiar? Audiences are moving across platforms at a rapid pace (think podcasting, social media, smart speakers…) Many organizations are scrambling to keep up with these platform shifts and can lose sight of the larger mission.
A mission is that which unites our teams. Instead of identifying as a format (a radio station or digital product, for example) rally around a brand idea. This helps us identify and run hard after our priorities, and allows us to transition through the rapid development of platforms. When organizations spend more time thinking about how to clearly articulate mission, the result is something the audience can really latch onto and get excited about. It also gives employees a shared understanding of what they're working toward.
Continued below…
Example: The Atlantic
The Atlantic was founded as a print journal in 1857 by literary greats of the time such as Ralph Waldo Emerson, Henry Wadsworth Longfellow, and Harriet Beecher Stowe. In 2007, with its future as a magazine under threat, The Atlantic launched branding exercises in which employees and readers were asked to help define the core brand.
What emerged were very conflicting messages: The Atlantic needed to be more serious; or maybe less serious. The Atlantic should effect change; or perhaps stick to exploring change.The Atlantic should respect all viewpoints; or set the standard for ideas in popular dialogue. It was clear the organization needed to generate a much clearer articulation of its mission, and ultimately its brand.
As a result of this questioning, The Atlantic arrived at a new guiding credo: To question answers.
The new credo came from identifying where the varying needs of each of its various audiences intersected, and then defining three personality attributes that mark the brand, in order to ensure consistency in its delivery of the credo: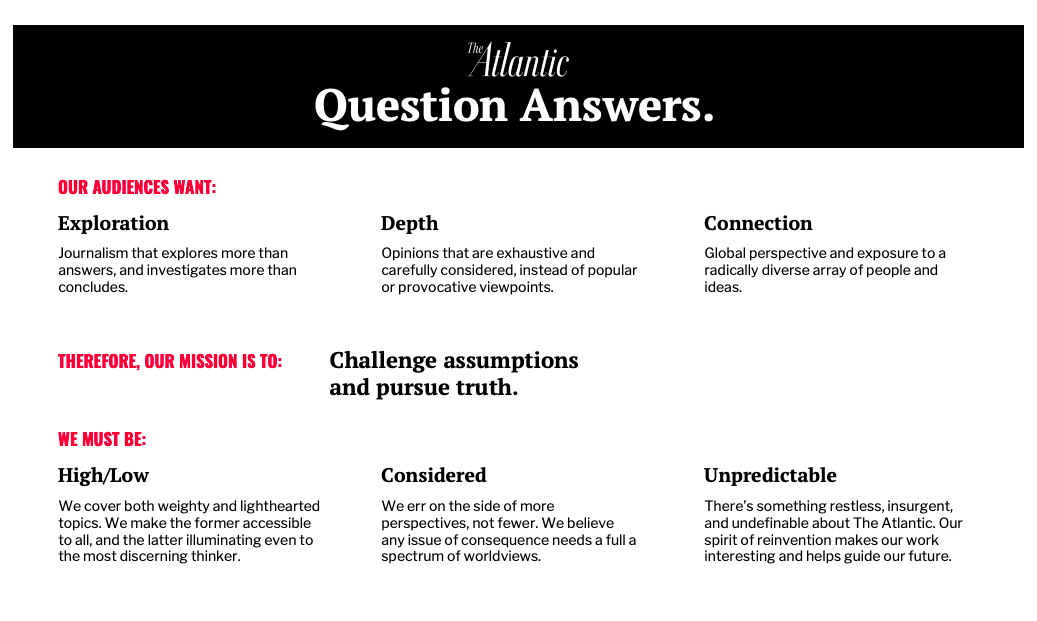 BARRIER 2: Teams work in assembly lines.
In a traditional newsroom model, the editorial team works independently to create content, the social media teams pushes out the content, the digital team maybe produces a video of that content, the sponsorship team figures out how to fundraise against this effort. How often have these interactions been overheard in your organization: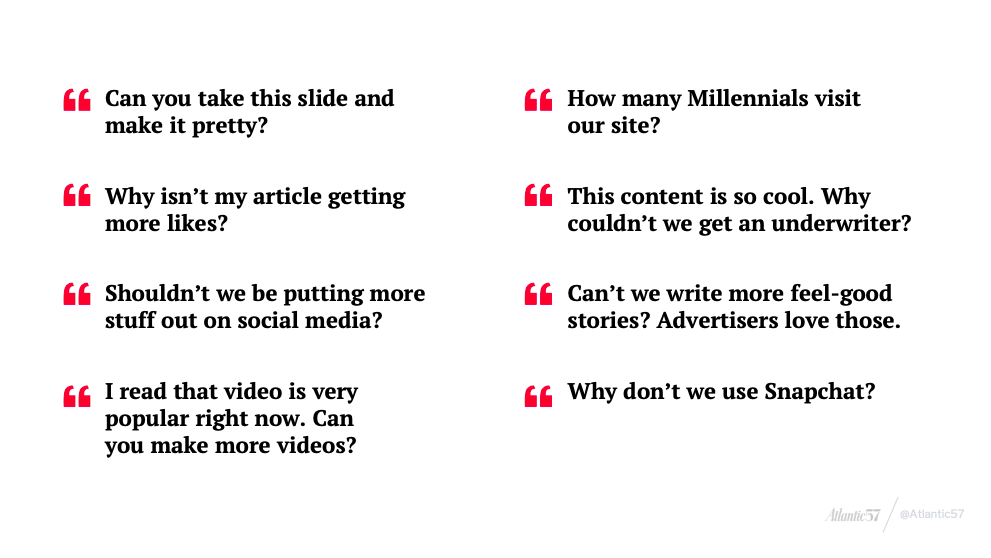 To make the best use of these collective disciplines, we need to envision a process that collaborates from the very outset. Because…
…If your internal teams are disconnected, your external brand will feel disconnected too.
The solution: Create points of intersection across teams and platforms.
Start with an idea for a new project. Think of your organization as a whole. Then engage people across teams and platforms to come up with the best version of that idea and identify what role everyone can play across the organization in order to bring that idea to life. Don't retrofit the idea at its completion into various channels. Instead, use internal collaboration – as well as audience ideas – from the onset to refine that idea to best fit your channels. This will also allow the organization to envision how to monetize that content.
Example:
The Atlantic
The Atlantic used this approach in its recent piece by Ta-Nehisi Coates entitled "The First White President."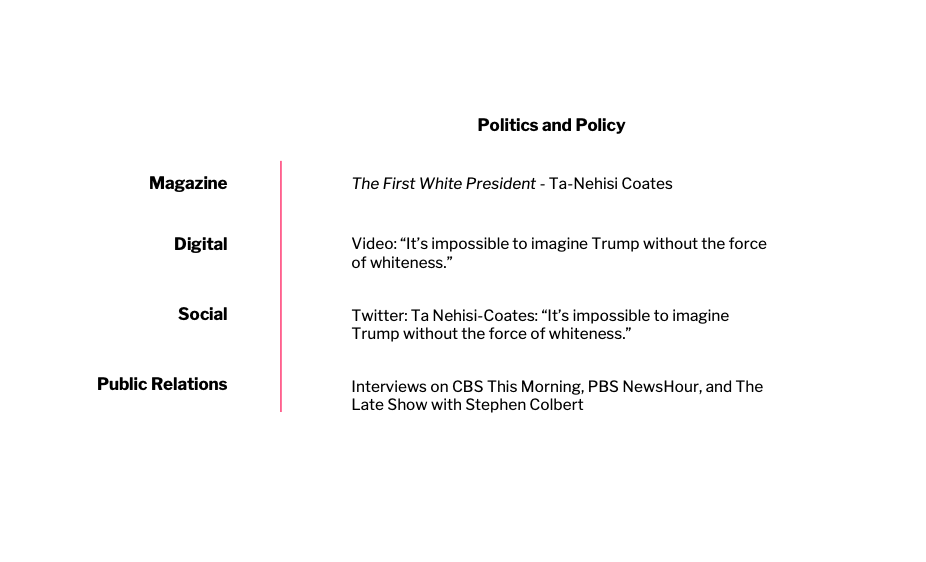 The project wasn't a written piece retrofitted for video, social media, etc. Instead, Coates worked with the digital team while writing the piece to create video content that complemented the print version. The social team had time to envision the objects that would most successfully tell the story on that platform. And the PR team had time to strategize how to position Coates on high-profile talk shows. The truth is that newsrooms of all sizes can engage this process.
BARRIER 3: Success is hard to define.
With so much data at our disposal, newsrooms struggle to know how to weave this information into our work in an effective way.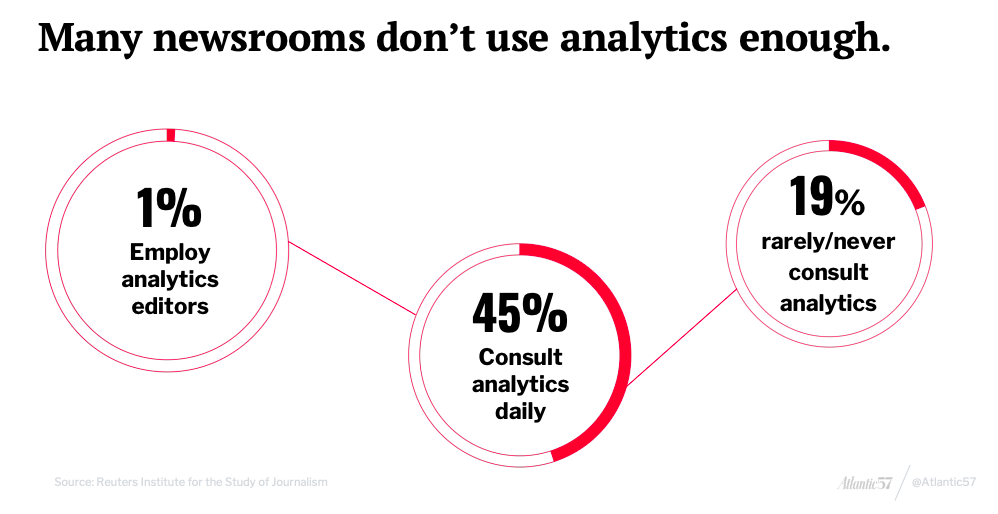 Newsrooms that do use analytics don't use them very effectively. 73% of newsrooms focus most attention on page views rather than how much readers engage with their content.
The solution:

Find deeper meaning in data.
Determine who you want to reach and what do you want them to do (visiting a story page beyond just liking that story post on social media, for example). Then you can employ clues to build a wholistic strategy.
Turn away from a "dashboard culture" and connect the dots between your data and larger organizational goals for the long-term.
Example:
The Atlantic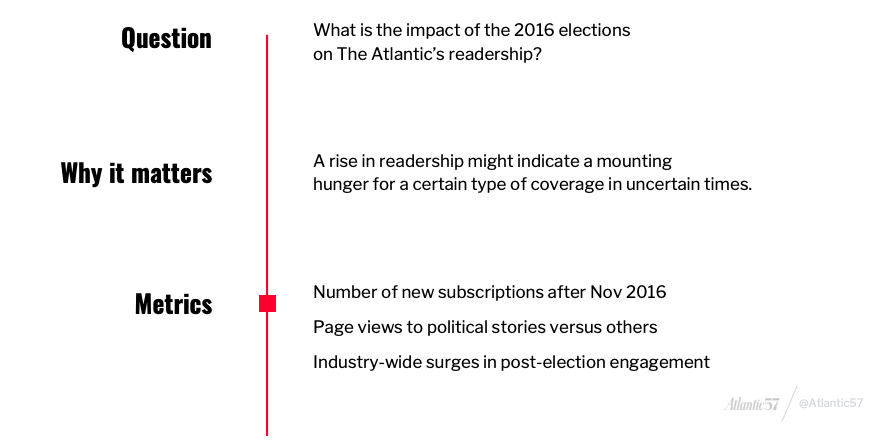 Based on thoughtful use of analytics, The Atlantic was able to conclude that its audience had a hunger for more understanding of the impact of the 2016 election, and shifted its coverage in that direction.
Contributors to this blog post
More on the blog