Case Study: How KCUR Tripled its Newsletter Subscribers Using Paid Social Media Ads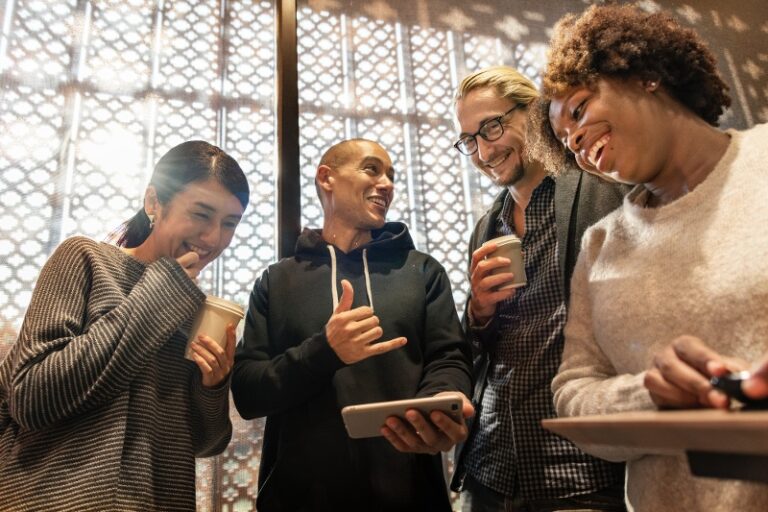 In 2017, my station, KCUR 89.3 in Kansas City, Mo., had a content-driven weekday email that highlighted important news of the day. The content was hand-curated and high-quality, and we knew it deserved a wider audience. My digital department allocated a small budget ($1,200) toward paid Facebook and Instagram ads aimed at generating email address leads. My colleagues in audience development also saw the newsletter as a major opportunity to get to know our audience as a result of the email addresses generated by their subscription to our list. Finally, we all believed we could convert many engaged readers into donors.
When the newsletter was a year old, it had 2,100 subscribers. We set this as our baseline; our goal was to grow the list by 100 percent. This felt ambitious but attainable for what was a first-time experiment. We didn't have clear, in-house benchmarks, nor did we have easy access to paid-social metrics for our industry, so we referenced general Facebook benchmarks for success to help guide our goal. (At the time, internet research suggested $2/lead was phenomenal success for our industry.)
Our full, six-month campaign consisted of:
$1,230 in paid Facebook and Instagram ads
On-air spots in heavy to medium rotation (3-5 times per 4-hour block)
3-5 tweets/day
Leaderboard banner (on and off) and tile ads on kcur.org stories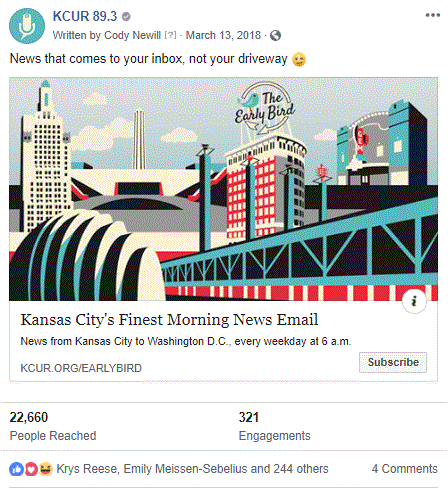 Much to our delight, we hit double the goal we'd originally set for ourselves. Our list grew by more than 200 percent. Of that growth, 1,221 email leads came from our paid social efforts, to yield an average cost of just over $1 per lead.

After six months of the campaign, our subscriber list had grown to more than 7,000. During KCUR's fall, 2018 membership drive, $9,746.88 in drive revenue was attributable to newsletter subscribers, half of that revenue was from new members. We tracked revenue from subscribers via a special "donate" link offered only through the newsletter. The ROI for the campaign itself was substantial.We also captured valuable audience information as well as new yearly donors whose lifetime value is exponential relative to  such a modest investment.
BUDGET FOR PAID SOCIAL: $1,230
TYPE OF AD: Lead generation on Facebook and Instagram
DURATION OF CAMPAIGN: Five months between March-July, 2018
REACH/IMPRESSIONS: 54,515 / 82,301
NUMBER OF EMAIL LEADS GENERATED: 1,221
Contributors to this blog post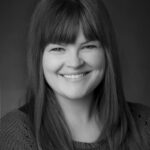 More on the blog