Four Big Reasons Public Media Sponsorship Executives Should Use Social Selling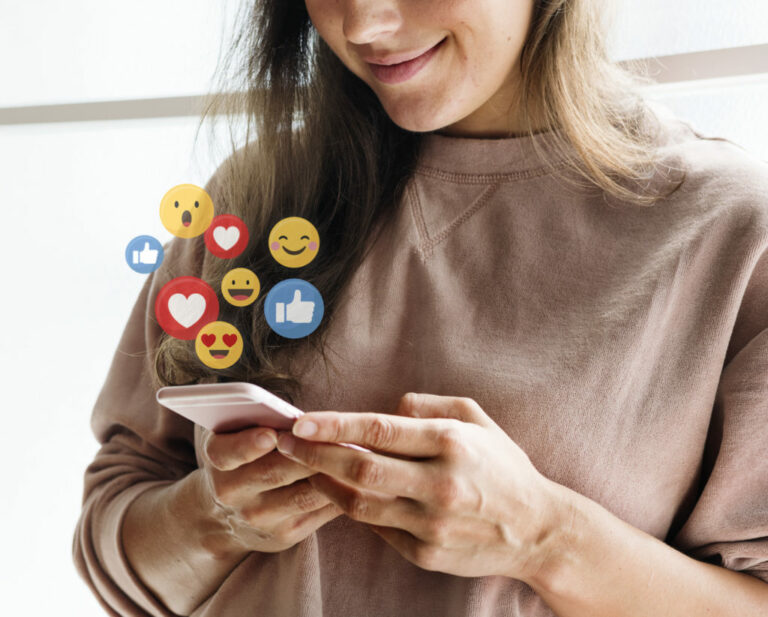 According to LinkedIn, the B2B social network, "Social selling is about leveraging your social network to find the right prospects, build trusted relationships, and ultimately, achieve your sales goals."
Sounds good, but does it work?
Here's how four public media account executives from across the country successfully use LinkedIn to bring in revenue and contribute to their stations' success.
Prospecting
Amanda Harris, national account executive at WAMU, D.C.'s NPR news station, has been on LinkedIn since 2009 and often uses it to find leads. "I will look at organizations I'm interested in and see if I have any connections," she says. With 1,200 connections on the social network, she just may.
At KCRW in Los Angeles, Senior Account Director Mandy Evans recently used the social networking site to re-establish her connection with a company specializing in wireless audio solutions. "There had been restructuring at Sonos' marketing and branding teams, and my previous contact left the company rather abruptly. I used LinkedIn to search for marketing employees."
Brian O'Donnell, also on WAMU's national sales team in Washington, D.C., says he uses LinkedIn "to search for marketing names or contacts" to supplement his efforts with the media sales information portal MediaRadar.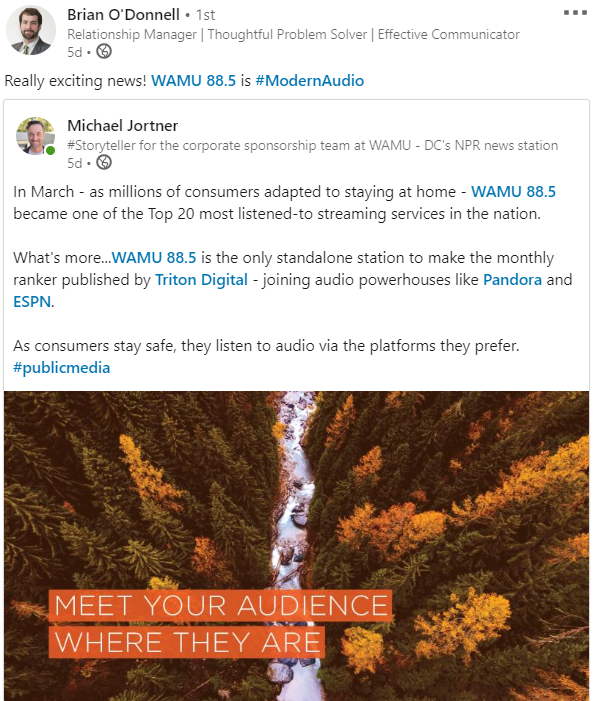 Brian O'Donnell shares and comments upon a colleague's post announcing WAMU's entry into the Top 20 streaming services nationally.
Relationship Building
Let's call it what it is: networking. But instead of mingling around a trade show, an awards ceremony, or a cocktail party (activities not possible during the pandemic), sales pros can safely "meet people" on LinkedIn using their chosen device at home.
Cathie Northern is based in the Atlanta area and covers the southeastern U.S. for WAMU. She says that surfing LinkedIn "is a vital part of my day."
What does she find? Often company announcements presenting an ideal opportunity to start a conversation. "Blackberry posted a video about fiber security in their digital solutions," Northern says. "I was able to send an email to my contact and say, 'Great video! Love to discuss how we can partner.'"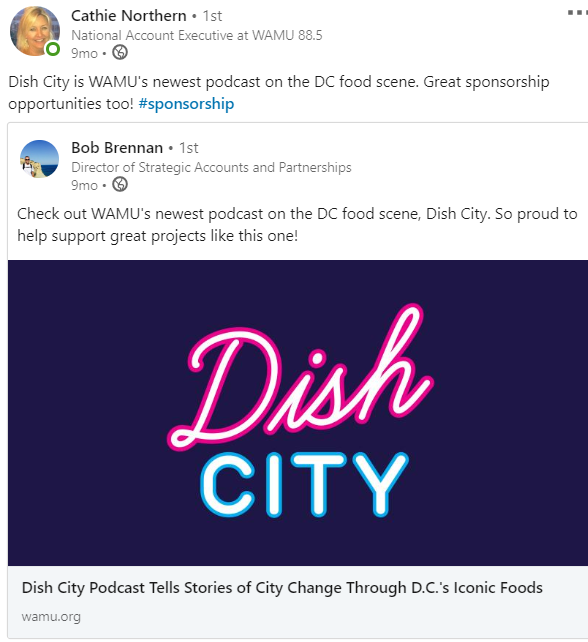 Cathie Northern shares a podcast sponsorship opportunity originally posted by National Sales Director, Bob Brennan.
Sometimes there's a feel-good bonus, like when a connection comments that "they love NPR and WAMU." KCRW's Evans has also benefitted from seeing a strong emotional response from potential media buyers to her station.
Remember Sonos? After several different contacts at the company ignored her emails, she finally received a response on LinkedIn from their global head of marketing "who ended up being a huge fan of KCRW." "He gladly put me in touch with their senior director of marketing," she says.
Best of all, Evans scheduled a Zoom meeting with that new decision-maker only days later.
Achieving Sales Targets
At the end of the day, hitting revenue goals is what it's all about. Social selling helps there, too.
Harris shares a success story. Soon after coming to WAMU in 2018, she became aware that one of her target accounts was launching a new initiative. "Luckily, because they posted it on LinkedIn pretty early on, I was able to get a call with them, which turned into revenue."
To move her sales conversations forward, Northern also posts content on LinkedIn. When she shares specific WAMU sponsorship opportunities with her 2,500 contacts, she gets "a fair amount of views."
The key to getting a response from sharing content is to make posts relevant to the media buying audience. Consider the challenges marketers and agencies face. What are they worried about, or perhaps don't know that could help them in their jobs?
For example, Northern recently posted messaging created by Market Enginuity. The company's new COVID-19 response campaign, "We're Built for This," highlights valuable advertising industry data her business contacts are likely to care about.
The benefit for her? She and WAMU show their thought leadership, building trust that makes Northern's LinkedIn connections want to do business with her.
Summary
LinkedIn states that sales professionals who make social selling a priority, and use it successfully, see 45% more sales opportunities and are 51% more likely to hit quota. Also, 78% of social sellers outsell peers who don't use social media.
The value to individual public media sales professionals seems clear. More qualified leads, better industry relationships, and achieving sales targets.
And while we've explored three key reasons sellers should adopt social selling, there is a fourth.
Social selling can also serve a larger purpose, much like the news and information public radio and TV stations across the country produce to serve their local communities.
When LinkedIn is used to build professional relationships – and share relevant business information with those contacts – it's a tremendous opportunity to highlight the overall value of public media. Brands, marketers and agencies need to hear that message often, now and in the future.
Reposted with permission from the Market Enginuity blog. Source: LinkedIn Sales Solutions 2020
Contributors to this blog post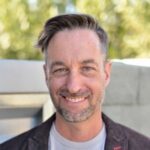 More on the blog